Take a quick look
We're committed to creating an education as unique as your career path. So, whether your goal is a new career or moving up in your field, our innovative programs will get you going your way.
01
Customize your plan
We work with you to map your path to your goal.
02
Learn from experience
From real-world case studies to employer-based projects, we prepare you to manage what comes next.
03
Choose your focus
Whatever you're passionate about, you'll find the classes to sharpen your specialty.
04
Study anywhere, on your time
Part-time or full-time, we move at your speed, to get you where you're going.
In this program, you'll take a multi-disciplinary approach to learning, creating well-rounded and sought-after innovators primed to utilize data and AI to inform domain-specific business decisions. Combining the disciplines of applied machine learning and artificial intelligence, data management, data analysis, and data visualization, a Master of Professional Studies in Applied Machine Intelligence teaches you to solve business problems within the rapidly growing field of artificial intelligence.
The diverse concentrations of healthcare, finance, human resources, and business ventures are a direct reflection of the AI value potential in these categories. Our program empowers students to apply AI models and algorithms to a chosen industry and focuses on the interpretation, operationalization, contextualization, and implementation of AI.
With a modular curriculum, you can easily customize your learning activities and experiences across multiple contexts both online and on-ground. Plus, you can earn your degree in less than two years.
All Roux Institute programs provide content relevant to the urgent and emerging needs of industry in Maine and the rapidly evolving regional, national, and global economy. Opportunities for experiential learning will be concentrated in Portland, the state of Maine, and the Northeast region. Students are encouraged to pursue co-ops and special virtual Experiential Network projects with the institute's founding corporate partners, a group of leading employers in Maine.
More Details
Unique Features
Graduate with a portfolio of work samples that demonstrate your range and depth of competencies and skills with machine learning and artificial intelligence.
Work closely with faculty from different fields and areas of expertise.
Our experiential AI curriculum includes an introductory core, as well as an advanced core with an end-to-end AI education, with the goal to proactively and thoughtfully prepare students for the evolving technology and the challenges it presents.
Career Outlook
According to Gartner, an estimated 2.3 million AI jobs will be created by 2020. Now's the time to prepare yourself for a changing industry by building desirable skills and experience with an MPS in Applied Machine Intelligence.
Experiential / Co-op opportunities
Northeastern's signature experience-powered learning model has been at the heart of the university for more than a century. It combines world-class academics with professional practice, allowing you to acquire relevant, real-world skills you can immediately put into action in your current workplace.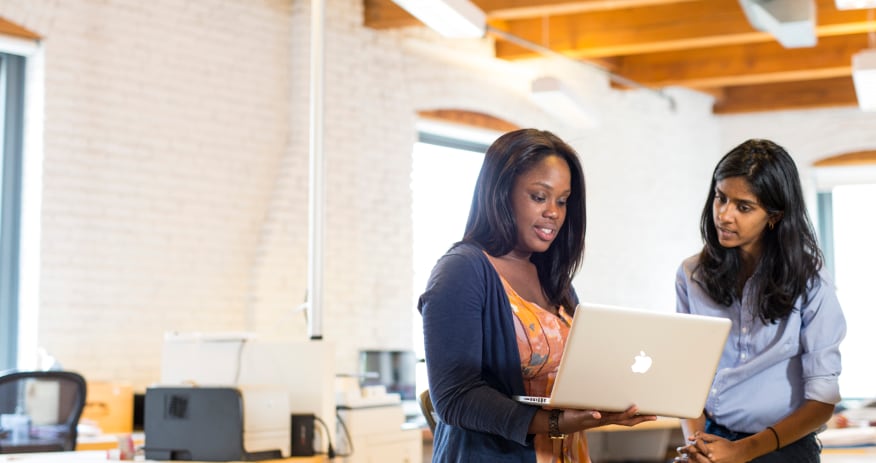 This makes a Northeastern education a dynamic, transformative experience, giving you countless opportunities to grow as a professional and person.
Get Set with a Custom Course Plan
Note: All students accepted to the MPS in Applied Machine Intelligence will be required to complete a Python Placement Exam upon acceptance. Those who achieve an 85% or greater will start with EAI 6000, those below 85% will have to take a required Python course in their first term that will count towards a required elective.
Experiential Network and Capstone
Elective Courses
Complete a minimum of 10 quarter hours from the following to reach 45 quarter hours.
| | | |
| --- | --- | --- |
| | | 3.00 |
| | | 3.00 |
| | | 3.00 |
| | | 3.00 |
| | | 3.00 |
| | | 3.00 |
| | | 3.00 |
| | | 3.00 |
| | | 3.00 |
| | | 2.00 |
Now Let's Talk Admissions
You know where you are headed and you've seen how our program will lead you there. So let's get going. Here's what you need to know before you enroll.
Online application
Statement of purpose (500–1000 words): identifies your educational goals and expectations of the program
Unofficial undergraduate transcripts (Official transcripts required at the time of admission) Reflecting degrees in engineering, computer technology, or coursework in place of Statistics.
Two letters of recommendation: from individuals who have either academic or professional knowledge of your capabilities such as a faculty member, colleague, or mentor, preferably one from your current employer
English Language Proficiency Proof: students for whom English is not their primary language must submit one of the following:

Official bachelor's degree transcript from an accredited college or university in the U.S, stating degree conferral and date
TOEFL, IELTS, or NU Global Exam scores
All students accepted to the MPS in Applied Machine Intelligence will be required to complete a Python Placement Exam upon acceptance. Those who achieve an 85% or greater will start with AI 6000 and those 84% and below will have to take a required Python course in their first term that will count towards a required elective.
Cost and Tuition
Estimated Total Tuition
This is an estimate based on the tuition rates for Academic Year 2020-2021 and does not include any fees or other expenses. Some courses and labs have tuition rates that may increase or decrease total tuition. Tuition and fees are subject to revision by the president and Board of Trustees at any time. For more detailed information, please visit Student Financial Services.
Application Deadlines
Spring 2022
Deadline for domestic applicants:
March 28, 2022
Fall 2022
Deadline for domestic applicants:
September 6, 2022
Student Body Profile
Below is a look at where our Analytics alumni work, the positions they hold, and the skills they bring to their organization.
Where They Work

Dell EMC
JPMorgan Chase & Co.
ADP
Staples
Interactive Data

What They Do

Information Technology
Operations
Program and Project Management
Business Development
Entrepreneurship

What They're Skilled At

Business Analysis
Leadership
Requirements Analysis
Software Development Life Cycle (SDLC)
Project Management
Learn more about Northeastern Alumni on Linkedin.